Welcome To Mick's Pest Control Perth, Your ECO-Friendly Pest Removal Team
From possums and cockroaches to bees, flies, fleas, and bedbugs, Mick's Pest Control Perth can treat all pests effectively and efficiently in a fast manner! Aside from effective pest removal, our exterminators work hard to understand pest behaviours.
As a result, we can tell you about their behaviour, their habits, and most important i.e best and most eco-friendly way to remove them from your premises. If you are looking for a pest control company that provides you with satisfactory results for a longer duration, then call us at (08) 6109 8217 for a quick quote.
Also, our Perth Pest Control team is available 24/7 for your help. It does not matter if it is a home or a business area, give our pest inspection Perth team a chance to help you! We will find out the right solution for your pest problems.
Protecting Families And Businesses Since 1992 From All Pest Infections
We are a local and family-owned pest control company working since 1992 in Perth. With years of pest inspection, control, and extermination experience, we know exactly what to use for different pests, and which will be the safest for you and your family.
Because our pest treatment in Perth is low toxic, that is why it is safe for your pets too! Our Pest Inspection Perth service is a great way to stop pests from increasing in your home or workplace on the first visit.
Many homeowners call us for Pest Inspection in Perth to know the condition of their home! In this way, we are a protector of all families and businesses in Perth against all pest infestations.
You Hate Pest, Mick's Love To Remove Pest, Call Us and See The Difference
This is for you, "You Hate Pest, Mick's Love To Remove Pest". With over years of experience in helping families and businesses, Mick's Pest Control is regarded as one of the best in Perth. We provide customized services not just in Perth but even in all the nearby suburbs.
As we are local pest control company experts, hence we help in case of an emergency caused by pests. Our vans are fully loaded with all the modest tools and equipment to offer you the best grade pest removal and treatment services.
Call our certified team anytime and schedule your appointment for Pest treatment in Perth and its surroundings at the most affordable price range.
Best Deals, Budget-Friendly Price: Pest Control Perth Services
We understand that you may think that pest treatments by experts are more costly than DIYs you can try on your own. With the help of our professional pest control solutions, you get the benefit of quick, effective, and affordable service.
Yes, we are cheap pest controllers in Perth compared to others. By "cheap" we mean the prices are low. Get your hands on our pest treatments, if any nasty creepy-crawly is bothering you. Choose us and you can avail the most affordable and best pest control experience ever.
Additionally, we are ready to give you customized treatments. All you need to do is, share your wishes with us & we will surely get it done for you, at easy rates!
Domestic Pest Control Service
For our domestic clients, we can come to your place in Perth and offer any pest treatment service you need. We can tackle all pest species including ants, bed bugs, fleas, silverfish, borers, termites, possums, and a lot more.
We provide specialized environment-friendly pest treatments for all homes, apartments, and residential areas. Choose us right away! Our home pest controls are available to book around the clock.
Also, you can schedule us for home pest treatments on weekends at your convenience. Share your budget we will form a cost-effective residential pest control service plan ready for you.
Commercial Pest Control Perth Services
For our ever-increasing number of commercial clients, we deliver a wide variety of pest treatment services Perth-wide. Businesses in Perth are known to be reliable, hugely competitive, and efficient.
And if you own a Perth metro-based commercial place that needs regular pest inspections & control, call us.
We actively serve commercial pest controls in cafes, schools, colleges, workplaces, malls, hospitals, large to small-scale industries and goods-based warehouses, etc. Just give us a call for a free quote at any time.
Termite Inspection and Treatment in Perth
Whether you need a quick and reliable termite inspection and treatment service, call us freely. Termites can severely affect your home's integrity and solid action must be taken against them.
Every property is different and so are its termite control needs. So, rather than wasting your time on DIY methods, get yourself a personalized termite solution ready from us.
By calling us for termite control, inspection, and treatment in Perth, we give a planned and appropriate inspection and removal for you. Also, our experts are ready to share a few termite prevention and barrier tips as well.
Emergency Pest Inspection and Treatment That Are Active 24 by 7 For You In Perth
Our pest control experts are trained to give emergency and urgent pest inspection and treatment services. With fast pest treatment expertise at our disposal & a reputable company in Perth- we assist clients with supportive pest treatments 24/7. So, whether you need urgent rat pest control or same-day spider pest control, we are just a call away.
In addition to emergency pest treatments and control, we also give you pest prevention tips as well as how to handle the situation till we arrive over a call for free. So, take the benefit of our all-time availability for bookings & reach out to us today!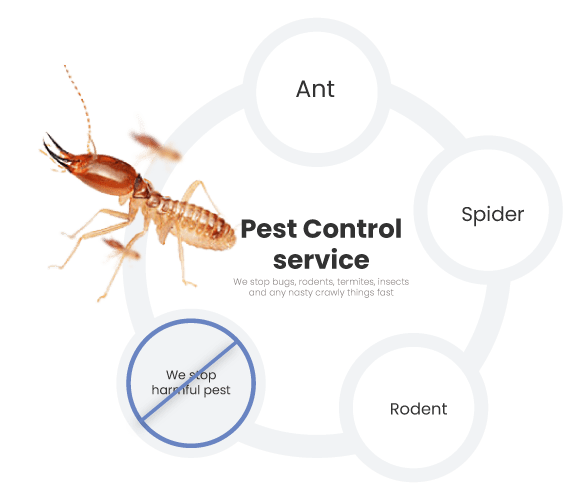 How Mick's Helps You To Get Rid of Pests From Your Perth Property?
Pests are pesky, oftentimes unwanted creatures that can cause a lot of damage to your property. Some pests can be extremely destructive and require professional help to get rid of them. Mick's is an Australian pest control company that specializes in the removal of pests from properties across Perth. We have years of experience in removing all sorts of bugs, spiders, and rats from homes and businesses. Here is how we do it effectively:
We use a combination of traps, baits, and pest-control products to get rid of pests. Trapping pests means that they are captured and killed, while pest-control products kill the pests or inhibit their growth. The traps are set in places where pests are known to be active, and pest-control products are applied to the traps to kill the pests. We can quickly and effectively get rid of pests, avoiding the need for tedious and time-consuming extermination.
We provide Mick'simum pest control results, eliminating pests from your property without causing any harm or damage. The traps and pest-control products are both effective and safe, helping to keep your property clean and safe from pests.
We do not stop after the treatment, we apply strategy to pest-proof homes and businesses. Our team shares tips and tricks so that you can keep a check on pests and maintain a pest-free property.
We are never afraid of pests and help people with the application of varieties of treatments available in the industry.
We Are More Eco Friendly, Affordable, and Safe Pest Control Services Provider
The mission of Mick's Pest Control in Perth is to serve with high-quality professional pest control services. You will not be disappointed by our top-notch pest exterminators. Because of our innovative techniques and approach, you will enjoy a pest-free environment.
We use only organic and 100% eco-friendly chemicals to remove these pesky pests and destroy their hideouts and nests. Also, our pest treatment in Perth is inexpensive, you will never feel the need to haggle. Besides these, customer safety is our utmost priority.
Hence our exterminators use odourless chemicals during pest treatment. As a result, you, your family, and your pets are safe with us! So, book your budget-friendly, safe, and eco-friendly pest control services.
End Of Lease Pest Control
Call Mick's Pest Control anytime for end-of-lease pest treatment and services anywhere in Perth. We have all the cutting-edge tools and technologies to deliver the best quality inspection and treatment. Moreover, our team covers all general pest control services. Hence, you can rest assured that we can exterminate all sorts of pests and ensure that the place is completely fit for inspection by the landlord.
Pre Purchase Pest Control
A pre-purchase pest inspection gives peace of mind. So, get this service through the professional Pest inspection Perth team. There are several reasons why it is important to have this service such as knowing if the pest infestation is there or not, the severity of the infestation, and knowing the cost of any repairs. So, before you buy a new property, you should call us to check and do pest control removal if required.
Fumigation Services in Perth
Fumigation is a pest control service in which we use an insecticide or pesticide to kill pests in and around your home in Perth. Our fumigation services can be used in areas where there are active infestations, such as kitchens, bathrooms, living spaces, and attics. The goal of fumigating is to eliminate all evidence of the pest so that it cannot reproduce and cause further damage. You must call our local pest removal team to get this done in your home.
Effective Pest Spray and Sanitization
One way to achieve control over various pests is our effective pest spray and sanitization. Throughout the year, pest populations will proliferate and multiply. We use an effective pest spray when necessary to protect you, your family, and your belongings.
We know that an organic pesticide spray is effective against household insects, but might not be effective against termites. One thing that we never ignore is the quality of services and we do everything to achieve this along with other benefits for our clients.
How Does Mick's Pest Control Make a Difference?
Mick's Pest Control is a Perth-based company's all professionals are skilled and hold Certificate III in Pest Management which provides professional pest control and treatment services. We have a trained and knowledgeable team of expert pest exterminators. So do not delay in hiring us. We can serve you anywhere and at any time. Here are some reasons how we make a difference:
A competent workforce that is well-trained and experienced.
Our Pest Control team is available 24 hours a day and 7 days a week 365 days.
We provide services on the same day of booking for customer convenience.
We provide you with exceptional and 100% guaranteed results.
By hiring our Pest control team you will be able to save a significant amount of money. Our pest control prices are reasonable for our high-quality services.
Our Eco-Friendly Pest Control service is safe for all, especially kids and pets.
Available Perth-Wide With The Best Pest Management Services
Ready to get the pest issue resolved? Do you reside in Perth or any of its suburbs? If so, our local pest management team will consult you today. We maximise our service areas and aim to deliver comfortable treatments to as many clients as possible. We serve thousands of clients every month throughout Perth. Wish to know where you can avail us in Perth? Check below:
Rosemount
Ashfield
Maylands
Fremantle
Churchlands
Dalkeith
City Beach
Claremont
Frequently Asked Questions
Mick's Pest Control Methods That Are Safe, Effective, and Reliable
We are always available for our client's betterment. We ensure safe, effective, reliable, and pocket-friendly pest treatment for you and your loved ones. Here is how we do it:
Pest Inspection in Perth
We inspect your premises or business area with highly skilled pest exterminators. Sure! Feel free to contact our Pest control Perth WA team, we inspect all Termite and Your Home. During pest inspection, our inspectors look through walls, ceilings, and floors to look at deeply housed nest areas. Furthermore, our exterminators assure you that they detect pests without damaging the property.
Pest Treatment in Perth
We provide pest treatments that do not leave a toxic smell and get you rid of pests. You can stay assured that you get eco-friendly pest control services. Our team is famous for providing advanced and organic pest control treatments. To disinfect or control pests, we use pesticides, baits, gels, or insecticides during the treatment. We also do fumigation or fogging. In addition, our experts are ready to serve you all day long.
Pest Removal in Perth
Resolving your problem is our priority. We provide immediate services for pest removal in Perth. Whether it is your home or commercial area, we work hard to listen, understand and assess your unique situation. Our technicians are well trained to expertly control the pest population and remove the cause of infestation from your property. Moreover, our Perth Pest Control team provides dead pest removal services also!
Our High Grade and Top Rated Pest Management Kills Pests On Your Property
Pest management is an important part of any property owner's arsenal. Our pest management services will identify and eliminate existing pest infestations before they become severe or costly to deal with. When you choose our high-grade pest control company, you can be confident that we have the knowledge and expertise to get rid of all types of pests – from spiders to rodents – quickly and effectively.
We Inspect Pest With High Advanced Tools
It starts with a proper assessment of the pest situation, followed by the selection of the most appropriate control measure. We have the latest tools, cameras, thermal imaging systems, and other modern developments that are in use for pest inspection. We do not want to miss even one pest.
Supervision and Effective Plan
Our pest management does not reduce the number of pests on a property, we finish them from roots and make your property pest-proof. Our effective plans include trapping and killing them, trapping and releasing them, nest removal, spray, and sanitization. Also, supervision is never missed when we do pest control.
High-Grade Non-Toxic Treatment
We understand that killing pests is not only our aim but also we have to use High-Grade Non-Toxic Treatment so that you get rid of the pests and there is no issue for anyone because of used pest control methods, chemicals, and sprays. It is reliable, effective, and easy to use, and can minimize the risk of pests damaging property or harming people, plants, and animals.