Mick's Pest Control Company Provides Hassle-Free Flea Control in Perth
Pests are the main culprit that ruins our peace of mind. Fleas are one of them. Fleas are not just annoying, but also give us itchy and painful bites. If you want to eradicate them and want to live with comfort then, Mick's Pest Control Perth is the best solution. Our Perth Flea Control Team is there to help, whether you have a major flea invasion or minor. For a comprehensive eradication of fleas contact our highly-skilled and experienced technicians. In addition, our flea treatment and extermination service are available for both residential and commercial. In case you are a pet owner and suffer from cat flea or dog flea, then without delay call our Flea Control Perth team and book our finest services. Moreover, our pest control in Perth experts will use bio-friendly treatments that are guaranteed safe for all age brackets. When we are here then there is no need to worry about fleas. Contact us today for a budget-friendly flea control service!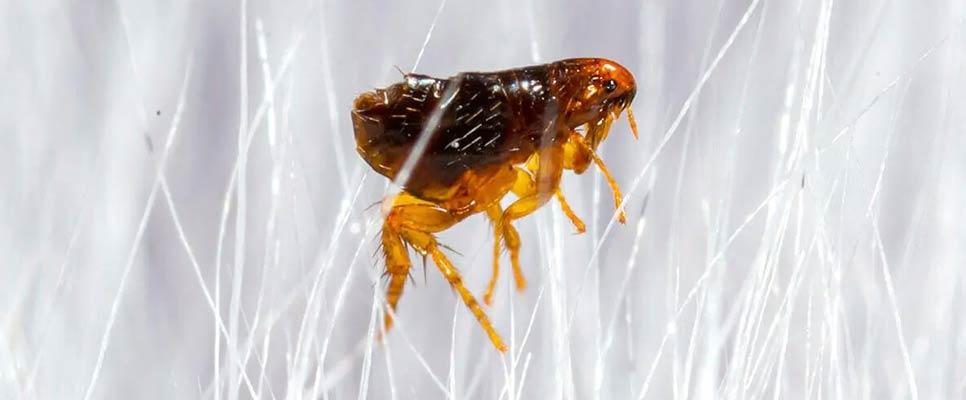 What Are Flea Infestation Threats?
Fleas can become a concern to your pets for a variety of reasons.
Fleas can also make your dogs' respiratory issues worse.
Their saliva has the potential to induce anemia because they are also capable of transmitting tapeworms.
They can cause severe itching, which can lead to infection.
They will get so much blood from the pets that it will make them sick.
Flea Infestation Symptoms
The indicators of a flea infestation are as follows:
Fleas will leave a trail of dirt all over your house.
Hair loss will occur in your dogs.
You'll find that your pets scratch excessively.
Also, your pet's skin will be covered with rashes.
If you are suspect or having fleas issues, you can call us for effective flea control Perth service. Mick's Pest Control Perth is a local flea pest control company in Perth.
The Flea Control Service Perth We Offer Is High-Quality At A Reasonable Price
A flea is a very small insect that has no wings and feeds itself with the blood of humans or animals. Our Flea Control Perth team saves you and your pets from these bloodsuckers. Our team of experts provides the finest flea inspection of your property. Also, we give you the best advice. After the inspection, with modern methods, we eliminate the cause of infestation. Moreover, all of these services are provided at a reasonable price. Our Fleas Control Perth team uses various methods to remove and control fleas. Fogging and spraying are two of them, pesticides are also used to kill pests. Moreover, we use only organic flea solutions. Furthermore, you can avail our dead pest removal service too! Hence, you can even contact us for the real estate flea control Perth team.
Perth Flea Control Service: Why it's Important To Hire Professionals
For your safety and fleas not to enter your home, hiring a professional Flea Pest Control Perth will be a perfect idea. Here are some reasons why it is important to hire professionals:
If you call a Perth flea control company for flea control then, safety is guaranteed. As they use non-toxic and eco-friendly flea treatments.
Professionals have complete knowledge about pests. So they handle them accurately and appropriately. As a result, you can save your money.
Professionals can help you to save valuable time. They will work according to your schedule which is tremendous.
Every home is different and every pest is different. So, their ways to eradicate from the property are different. Professional Flea Control provides you with desired results. And this is possible due to their specific plan.
As we all know experience matters. Thus, hiring a professional will always be a good decision. Professionals deal with the situation according to the experience.
Explore Our Pest Control Services in Perth
Perth, WA, provides comprehensive inspection and control of fleas
Flea Treatment Inspection & Control in Perth
If you are experiencing a flea infestation at your property, then appoint us for flea inspection. Our team for flea control Perth provides the best flea treatment for controlling and eradicating fleas from your premises.
Flea Treatment Plan For Home
Are you getting irritated with fleas? Are you finding them under the rug, on pets, and anywhere else? Do not worry, we can assist you! Contact our friendly staff for flea treatment for your home. We will use 100% organic products. In addition, we will be guaranteed you get fruitful results at affordable rates.
Our experts for Flea eradication in Perth use only certified pesticides and methods of flea eradication in Perth. Furthermore, our technicians have all the necessary licenses to deal with fleas. Moreover, we are available for weekend services too!
Fleas Control Ongoing Prevention
Fleas are not just a nuisance for pets but also human beings. Flea control is an ongoing battle. For your victories, our team provides prevention tips that are helpful to our customers in the future. Some examples are well-groomed lawn, regularly washing bed linens, and so on.
What are the common types of fleas?
Dogs and cats are very susceptible to fleas, but it is necessary to take action immediately so the condition will not worsen. If you find Dog flea or cat flea then, it is a clear sign that all you need is Flea Control Perth team. You can also find fleas on cows and buffaloes and in your pet birds. There is another called carpet flea.
Flea prefers warmer and more humid places. In addition, they can survive on human or animal blood. These bloodsuckers are necessary to eradicate. Thus, without wasting a minute more, contact us.
Appointments for Flea Control in Perth are available seven days a week, 24 hours a day
Many trusted us for fleas control in Perth and they have not seen fleas in their home after that. Our main goal is customer satisfaction. As we never fail to meet the satisfactory outcomes you want on removing fleas thoroughly. Our fleas treatments are available for various sorts of properties such as schools, residential areas, commercial sites, shops and malls, and many more. Our Flea control Perth experts work all day long. We have a team of dedicated specialists that are ready to work even on holidays, weekends too. With our emergency and same-day flea eradication approach, waiting is not an option. Mick's Pest Control Perth team guarantees your problem will be eradicated in no time.
We Have Provided Flea Control in Perth for over 20 years
Mick's Flea Control Perth provides the best solutions for fleas for over 20 years. Our clients are happy with our services. As a result, we become popular in the industry. We also ensure that our customers should not have the flea problem again. Moreover, we will provide follow-up treatments too! You can make a booking with us to experience the development in our services and methods.
Our Pest Control and Flea Control Services Are Available in Your Nearest Area in Perth, Western Australia
Mick's Flea Control Perth team provides top-notched services not just in Perth. You can avail our services in all the nearby suburbs like:- Wangara, North Beach, Kings Park and many more areas. We will reach your destination irrespective of time or distance. Remember, we are just a call away. Furthermore, our staff is customer-friendly.